Make your first run more fun
Make the most of your trail time and ride with a guide. Trail Tours' unique audio interface rides with you talking you through each turn and feature on the best routes in the region.
It's more fun to ride with someone who really knows the trail. Don't worry about getting surprised by a big mandatory gap or having your head buried in a map.
Now available: 10 tours covering 100 miles of our favorite mountain bike rides in NW Arkansas!
More than Directions
While staying on the best route is important, we'll add advice about trail features like jumps and drops, where you can ride fast and where you should be more cautious, and even some history and local culture.
Hand-picked routes
We choose our Ride Guides based on their experience with the local trails. It's like riding with a friend that's ridden it hundreds of times. We won't let you run the loop backwards and you'll know which alternate lines to hit.
Ditch the Map
You can't ride and look at a map at the same time. With Trail Tours you'll hear not just navigation guidance like "turn right ahead" but you'll hear expert guidance from your Ride Guide just when you need it.
Plays nicely
You can still listen to music or podcasts, use Strava, your HRM or any other app while adding Trail Tours guidance, with no additional cost to your phone's battery life. Your audio will mute temporarily while the tour plays.
Eyes on the Trail
Trail Tours is delivered as an audio-only experience on the trail so you can focus on the terrain, not the screen. Keep your phone in your pack or on your bars and your eyes ahead.
You Set the Pace
Our Ride Guide rides at exactly the same speed as you. Need a break after that climb? Take as long as you want to catch your breath and we'll wait. Because the waypoints are triggered by GPS location you'll always hear guidance when it's relevant no matter how fast you ride.
Venture Out
If you always find yourself on the same trails because you're familiar, take a tour of something new and we'll make sure you know what to expect along the way. You can even preview the tour before you ride so you know what our Ride Guide has to say before you mount the bike.
Ride with Friends
Or not. If you're riding with a group, keep one earphone in and one ear open to talk with your friends. There is plenty of time between waypoints to chat and complain about that climb. If your group gets separated on the trail your Ride Guide will make sure they don't miss a turn until they catch up.
Ride with a Guide
Like turn-by-turn directions on the trail, but better
Trail Tours makes mountain biking more accessible, safe and fun for riders of all skill levels. By combining turn-by-turn directions with expert guidance on trail features, route selection by locals and tours for every rider and occasion we'll open up more terrain with less hassle.
Make your first run more fun by riding with a Ride Guide.
How it works
Download the Trail Tours app on the Apple App Store for free
Choose a tour from the catalog based on terrain, length, difficulty, elevation or even the ride guide's personality.
Purchase and download the tour, some tours are free
Get directions to the tour trailhead within the app
Connect your Bluetooth earphones and start your tour
Trail Tours at the Apple App Store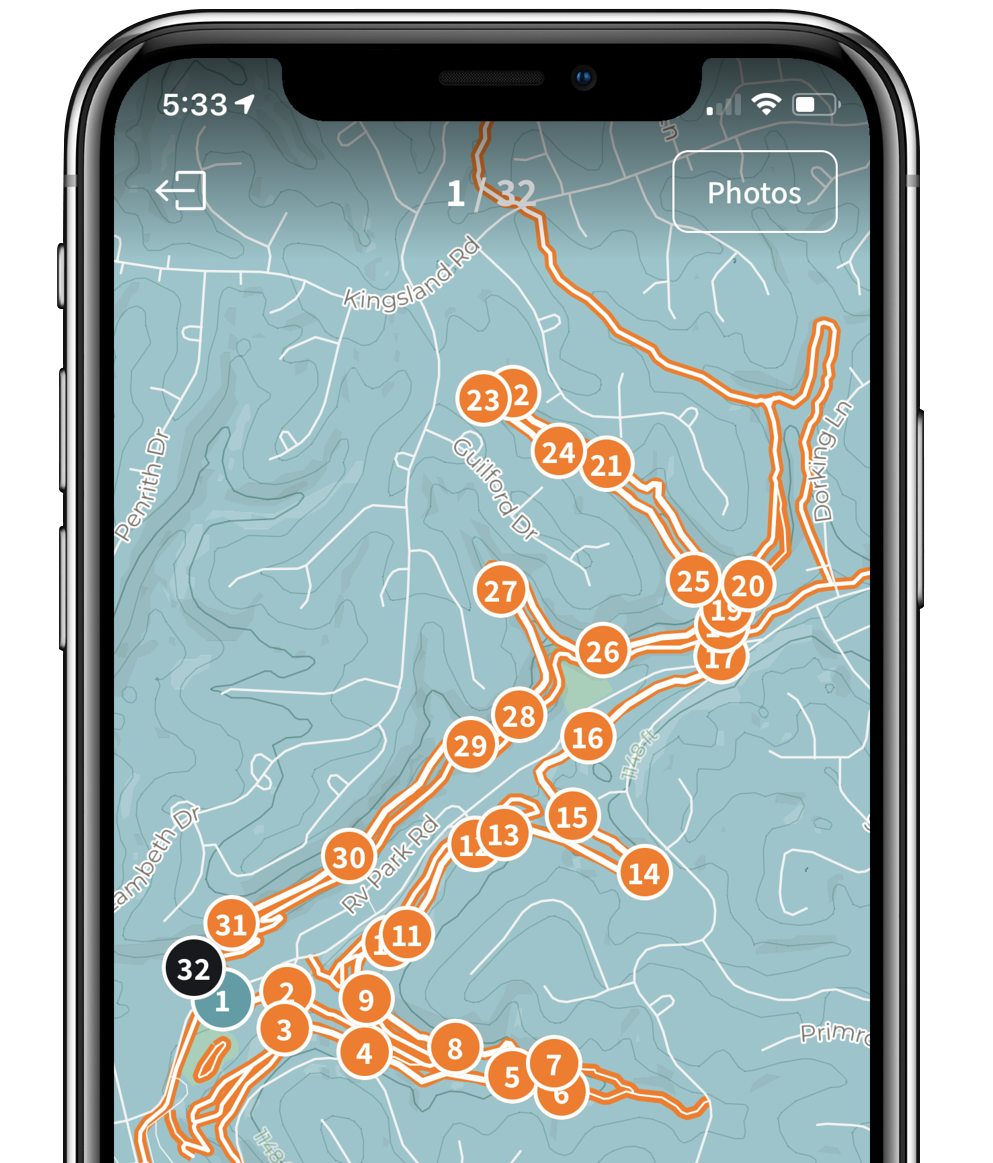 Screenshots
While Trail Tours is best enjoyed with it's audio interface while out riding, the app allows makes it easy to choose a tour, preview the route and see the features before you mount up.